Ms. Syeda Sazia Zaman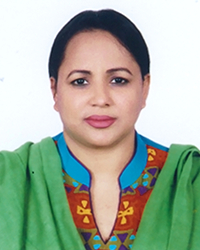 Member Secretary
Ms. Syeda Sazia Zaman has been working as a Programme Head at BRAC Institute of Educational Development, BRAC University since 2007. Currently she is leading the Play to Learn Project and oversee the BRAC Humanitarian Play Labs in Rohingya humanitarian settings in Cox's Bazar. She has more than 21 years' work experience in the Early Childhood Development field.
She did her International Masters in Social work from Gothenburg University Sweden, in 2003. She is responsible for teaching the Academic program of MSc. in ECD including conduction of the classes, grading of the students, thesis supervision etc. and also conducting a few researches and tool adaptation. She has experiences to lead a few Projects of Porticus, LEGO, UBS, Nuffic Child Care, Grand Challenge Canada, and Project units of Child Care, Parenting (0-12 m; 1-5 years parenting), and also experiences to organize fund, support in proposal writing, communicate and liaison with donors, GO (DPE & MOWCA) & NGOs to test & scale-up of Play model in different settings.
Ms. Zaman has provided technical support to develop the BRAC Play Lab curriculum and model in Uganda and Tanzania. She has worked extensively in- Parenting & Child Care; play-based pedagogy for the early years; pre-primary school curriculum development, child stimulation and child development programs and researches. She has successfully led efforts toward bringing innovation in children's education outside of the public school system in both urban and rural areas throughout Bangladesh. She is also playing active role as a Member Secretary of Bangladesh ECD Network (BEN).