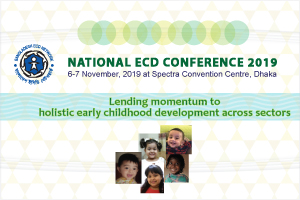 National ECD Conference 2019
Bangladesh ECD Network (BEN) is organizing the National ECD Conference 2019 from 6 to 7 November 2019 at the Spectra Convention Centre, Dhaka (House # 19, Road # 7, Gulshan-1). The theme of this conference is "Lending momentum to holistic early childhood development across sectors".
The subthemes of this conference have been chosen from the nurturing care framework which includes the five sectors crucial for early childhood development.
1. Good Health
2. Adequate Nutrition
3. Responsive Care
4. Security and Safety
5. Opportunity for Early Learning
About 200 participants including government officials, UN agencies, national and international organizations, ECD practitioners, experts and representatives from BEN member organizations are expected to attend the conference.
Participation to the conference is upon registration only by paying the registration fee and filling up the online registration form before Wednesday, 30 October 2019. Registration scope is limited to 140, therefore, 'first come first served' policy will be applied. The registration fee per person is Tk. 1,000 (One Thousand Taka). However, for BEN member organizations, 50% waiver will be for one person who is allowed to pay Tk. 500 (Five Hundred Taka) as Registration Fee.
For online registration, please fill up and submit the form in the following link.
https://forms.gle/BpTjDQWDhrANBHCm8
(Note: please follow the payment information given in the form.)
Interested organizations and individuals can send their abstracts in the prescribed format on any of the sub themes. The abstract should not exceed 300 words. The prescribed format for abstract submission is attached herewith. The deadline of abstract submission is Thursday, 24 October, 2019. Please send the abstracts as soon before the deadline.
The submitted abstracts will be reviewed by the Conference Organizing Committee and selected abstract will be asked for presentation in the concurrent sessions of the conference.
Please feel free to call Mr. Mehedi Hasan, Coordinator, BEN (01738259267, 01826401812) if you have any query.
You can download the conference concept note from here.

Download File