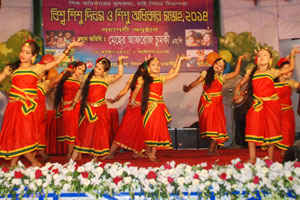 Early Childhood Day Celebration
Bangladesh Shishu Academy and Early Learning for Childhood Development (ELCD) Project (2nd Phase) organized Early Childhood Day on 1 October, 2014 on the occasion of celebrating Child Rights Week 2014 (29 September to 1 October 2014). The celebration of Early Childhood Day was organized at the premise of Bangladesh Shishu Academy where hundreds of children, guests from different government and non-government organizations gathered. Ms. Meher Afroesze Chumki M.P., Hon'ble State Minister of the Ministry of Women and Children Affairs, was the Chief Guest of the ceremony. Mr. Tariq-Ul-Islam, Secretary of the Ministry of Women and Children Affairs and Ms. Anjana Mangalagiri, Chief of Education Section of UNICEF Bangladesh were the Special Guests. The discussion session on the Early Childhood Development was chaired by Ms. Selina Hossain, Chairman of Bangladesh Shishu Academy. Mr. Mosharrof Hossain, Director of Bangladesh Shishu Academy, welcomed the guests and children in the ceremony.
Children of different ages participated in the colorful cultural event. They also took part in the drawing and art competition. Besides children of Pre-Primary Education Program performed rhymes and songs in the live cultural program. Puppet show, horse-cart, band party and children films were special attraction of the ceremony. Children enjoyed the walk around of Simimpur (popular TV children show) Characters. The children winners of the drawing and art competition were awarded with prizes at the ceremony.