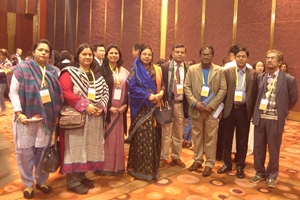 Hon'ble State Minister, Ms. Meher Afroze attended in ARNEC Conference in Beijing
Hon'ble State Minister of the Ministry of Women and Children Affairs, Ms. Meher Afroze attended in China's Fourth International Early Childhood Development and Poverty Reduction Summit and 2015 Asia-Pacific Regional ECD Conference 21-24 October 2015 in Beijing, China. The conference was organized by Asia-Pacific Regional Network for Early Childhood (ARNEC) and China Development Research Foundation (CDRF). The State Minister led a 18 members bangladesh team in the conference. She delivered a speech in a plenary session titled "Sustainable Development Goals: ECD 2030; What do we envision accomplishing by 2030?" which was participated by seven ministers of Asia-Pacific countries. The speech of the Hon'ble State Minister has been shared here.
...................................................................................
"... China has a great tradition of learning and disseminating knowledge. Paper was invented in China. So was the movable type printing. Prophet Muhammad said 1400 years ago – Travel as far as to China to seek knowledge. So I am here -- with a strong government and civil society delegation from Bangladesh.
Bangladesh was one of the first countries that ratified the Convention on the Rights of the Child in 1989. It has made great strides in fulfilling the rights of children and achieving child-related 2015 Millennium Development Goals. The goal of reducing population in poverty by half to 25 percent by 2015 from over 50 percent in 2000 is on track.
The under-five mortality rate has come down from 151 in 1990 to 41 per 1000 live births in 2013. Likewise, the infant mortality rate was reduced from 94 per 1000 live births in 1990 to 32 in 2013.
Equitable and universal access to primary education is close to being achieved with 98 percent enrollment rate. Disparity in access between boys and girls both in primary and secondary education has been eliminated. At least one year of pre -primary education for all children was launched in 2008. It serves now over two-thirds of all children entering primary school.
Bangladesh has been recognized as a global leader in developing low-cost interventions such as the use of zinc in the treatment of childhood diarrhoea, discovering and popularizing oral rehydration solution, supplying delivery kits to rural birth attendants, protecting pregnant women and their babies with tetanus vaccinations, and spreading use of iodized salt. These interventions have been rolled out locally, scaled up and even used in other developing countries.
Despite the gains, there are challenges ahead. While the mortality rates have improved, and early care and development and education opportunities have expanded, inequalities in health, nutrition and education services among population segments remain. These disparities for the poor, and residents in remote low-land, hills and coastal areas still need to be addressed.
Childhood injuries, especially drowning, have emerged as a public health problem responsible for a quarter of the deaths among children 1 to 4 years of age. This signals vulnerabilities that indicate a link to conditions arising from climate-change.
The government, citizens and civil society in Bangladesh are aware of climate vulnerabilities and the critical importance of the SDG 2030 sustainable development agenda. We commend the Sustainable Development Goal 4 on education and its sub-goal 4.2 on early childhood development.
The national policy and strategy development for coping with climate change has been undertaken with the lead given by Prime Minster Sheikh Hasina. Her leadership has earned her the Champion of the Earth Award on the occasion of the SDG Summit at the United Nations.
We are very pleased that the target 4.2 on Early Childhood Development has been adopted. The aim to "ensure that all girls and boys have access to quality early childhood development, care and pre-primary education so that they are ready for primary education" is fully in line with the Comprehensive Early Childhood Care, Education and Development (ECCED) Policy adopted by the government in 2013. The operational framework and strategy for implementation of the policy with the active participation of all government and non-government stakeholders have been formulated. We are committed to addressing and removing disparities and inequalities in services and their outcomes in early childhood development.
For a low-income country, with public revenue resources as the share of GDP rather low, mobilizing necessary resources is a special challenge. The Comprehensive Policy authorizes the Ministry of Women and Children Affairs, the focal point for ECD, to track resources devoted to children in all Ministries and agencies. Our Ministry will also advocate for a higher priority to children by all sectors, and encourage effective use of the resources.
The policy also supports public-private partnership, promoting corporate social responsibility and harnessing contribution of communities. With on-going sustained economic growth, Bangladesh will reach in the near future the status of a middle income country. This situation along with effective implementation of the ECD policy will improve the resource prospects for ECD... "
Ms. Meher Afroze
State Minister
Ministry of Women and Children Affairs
Government of the People's Republic of Bangladesh